Xuzhou Renci Hospital completed 9 TiRobot-assisted vertebroplasty operations within 10 days!

2020 - 07 - 01 15 : 51
On June 22nd, the medical team from the Spine Department of Xuzhou Renci Hospital successfully completed a minimally invasive vertebroplasty surgery assisted by TiRobot for a 76-year-old patient with thoracic vertebral compression fracture. This is the ninth vertebroplasty operation assisted by TiRobot in Renci Hospital in a few days.
With intelligent robotic arm, TiRobot imitated the steps of percutaneous vertebroplasty surgery and positioned and implanted cement precisely, which led spine surgery into a new era. The director of Orthopedics Department and vice President of Renci Hospital said, 'TiRobot® is composed of robotic arm, optical tracking system and main control surgical cart. It can automatically adjust the entry angle, confirm the position and search intelligently according to the planned trajectory. The application of TiRobot has greatly improved the accuracy of surgery and reduces X-ray radiation and risks in surgery.'
A 76-year-old with thoracic vertebra fracture was discharged two days after TiRobot-assisted operation.
Uncle Meng, 76 years old, lived in Pizhou. A month ago, he fell down while carrying heavy objects at home and got sever pain so that could not move. He stayed in bed for a month but didn't get relieved. He was then sent to Xuzhou Renci Hospital by his family. After examination, he was diagnosed as T12 compression fracture and a vertebroplasty surgery was required.
Since Uncle Meng was 76 years old and had lumbar disc herniation, degenerative lumbar vertebra and some other basic diseases commonly seen on the elderly, it was risky to carry out surgery for him. Therefore, the medical team led by Dr. Zhang Ye firstly discussed with the Geriatrics and the Anesthesiology to evaluate the risk. They finally decided to use TiRobot and carry out vertebroplasty to shorten the surgery length and avoid cement leakage and postoperative infection.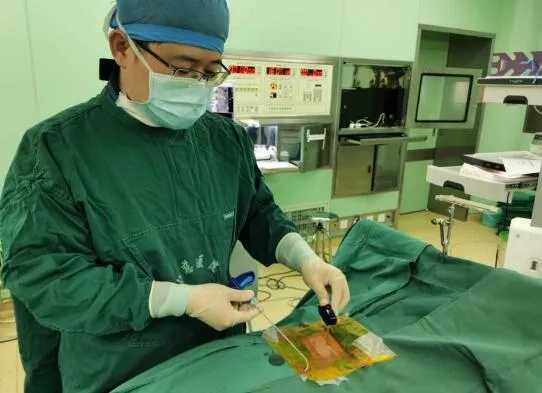 On June 22nd, Uncle Meng had a vertebroplasty surgery. The surgeon first positioned T12 and got a 3D image with the tracer in TiRobot. He then stimulated a puncture on the left pedicle of T12 and made an incision at 0.5cm at the positioning point. A guide pin was inserted through a socket and after the pin reached the last quarter of the vertebra, it was replaced by a cement canula. Monitored by X-ray, around 2ml cement was injected through a cement injector. Another 2ml cement was then injected after the previous one relatively set. Making sure of the vertebral height and cement leakage, the surgeon finally took out the bone filling instrument. The operation ended successfully in less than an hour.
On June 24th, two days after the operation, Mr.Meng recovered well and was ready to go home.
Precise, intelligent and minimally invasive surgery performed by TiRobot®
TiRobot® can help surgeons precisely position the implants and surgical instruments and has significant advantages in minimally invasive surgery and surgery on high-risk areas. With the assistance of TiRobot, the risk and complications can be effectively reduced.
In addition, TiRobot has another significant advantage. In robot-assisted surgery, X-ray is required only three times: before the surgery, after the guide pin and the screw enters. In this way, the radiation is greatly reduced. While acquiring images, with the robotic arm holding the instruments and implants stably, the medical staff do not need to expose to X-ray and therefore effectively reduces radiation on them.
Another TiRobot® in Jiangsu was settled in Renci Hospital
In Mid-November, 2019, Xuzhou Renci Hospital introduced a second TiRobot® and applied it into more than 131 cases in 9 orthopedic wards within 5 months, including vertebroplasty for thoracolumbar fracture, percutaneous screw fixation, compression screw fixation for femoral neck fracture, screw fixation for scaphoid fracture, decompression bone grafting for femoral head necrosis, compression screw fixation for tibial plateau fracture, screw fixation for calcaneal talus fracture and bone tumor biopsy. With the powerful optical tracking system and stable robotic arm, TiRobot® helps surgeons to carry out precise and safe surgeries. The introduction of TiRobot indicates that we have already stepped into building up an era of intelligent orthopedics.
Source: Xuzhou Renci Hospital