About TiRobot| TiRobot® was applied in The third People's Hospital of Huizhou and promoted the

2021 - 01 - 06 09 : 26
Recently, TiRobot® was introduced in The third People's Hospital of Huizhou. With the assistance of TiRobot, The third People's Hospital of Huizhou has gradually achieved its goal of having more minimally invasive, precise and much safer surgery.
TiRobot® was introduced in The third People's Hospital of Huizhou and helped with difficulties in orthopedics.
The optical tracking system monitors the tracers of patient and robotic arm in real time. The six-axis robotic arm is a deft hand and the doctor can convey his mind through the main control system, giving life to cold machines. With the robotic arm, surgeons can operate more accurately and steadily. A scene as shown in a sci-fi is on in the Orthopedic Center of The Third People's Hospital of Huizhou. Assisted by TiRobot, surgeons are more likely to succeed and the risk is greatly reduced.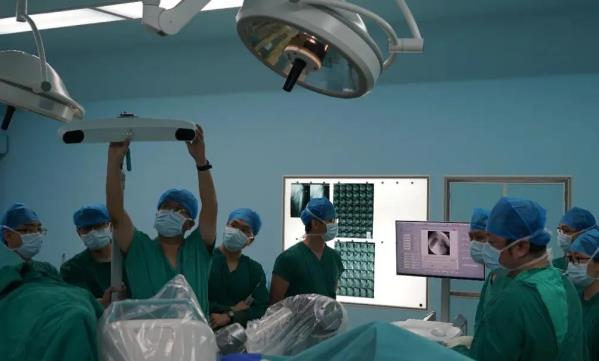 Doctors of The third People's Hospital of Huizhou carried out surgeries assisted by TiRobot
The east campus is located along the Xinkai River in downtown Huizhou. A medical device, TiRobot, was introduced recently. Most orthopedic surgeries use open reduction and the success of the surgery largely depends on the experience of the surgeon. But now, surgeons have TiRobot as a close partner in operation.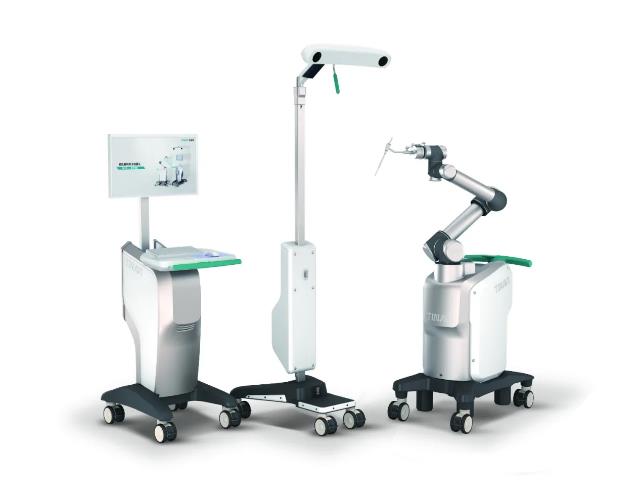 Ms. Chen, 56 years old, fell down accidentally and got fractured. According to the imaging report, she got compression fractures in T12 and L1. The surgeon planned to implant 6 pedicle screws to fix the injury parts.
It was always a difficult problem for doctors to implant the screw precisely in the past, because they had to build up a 3D imagination in mind and read the image of deep tissue from their mind and completed the surgery assisted by X-ray. But the newcomer TiRobot can help with this problem.
Ms. Chen originally thought she had to be in bed for a long time after such a big surgery, but the assistance of TiRobot reduced the damage to her physical health. She would recover soon and did not need to stay in bed that long.
TiRobot-assisted surgery is intelligent, minimally invasive and precise.
TiRobot introduced by The third People's Hospital of Huizhou is composed of three parts, optical tracking system, robotic arm and main control surgical cart. The optical tracking system is its eyes, which not only works as an X-ray but also keeps an eye on the muscles and bones in depth and also monitors the operation in real time. The robotic arm is its hand. The design of 6 axis make it more flexible and stable. The main control system is its brain and conveys the doctor's mind to the two devices above in order to help him plan the trajectory.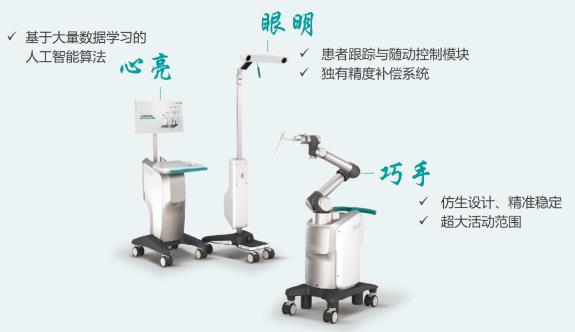 'TiRobot is very appropriate for minimal invasion.', said Dr. Wu Mingxin, director of orthopedic medical center, as he concluded the advantages of TiRobot. These advantages also enable TiRobot to carry out surgeries on spine (cervical vertebra, thoracic vertebra, lumbar vertebra, hip vertebra), pelvis and limbs.
Dr. Wu introduced that a large incision was required in traditional posterior approach for cervical spine operation. Since the cervical spine is complicated and surrounded by many important tissues, improper operation would end up in failure. But there is only a few small holes at 1.5-2cm in robot-assisted surgery. The smaller the incision, the less bleeding it will be.
TiRobot can also handle problems that cannot be overcome by human hands. 'Doctors are after all not god. They can never overcome physical tremor in their arms.', said Dr. Wu. At the same time, affected by the proficiency and experience of surgeons, the screw may deviate from the planned position. The robotic arm of TiRobot can tackle the unnecessary tremor and only allow for sub-millimeter accuracy as planned.
Advanced medical equipment provides a strong backing
'Now TiRobot has gone deep into every case.' Dr. Wu believed that with the assistance of TiRobot, The third People's Hospital of Huizhou would gradually achieve its goal of having more minimally invasive, more precise and much safer surgery. As the most advanced orthopedic surgery robot, TiRobot provides a solid backing for patients in terms of diagnosis, treatment and rehabilitation.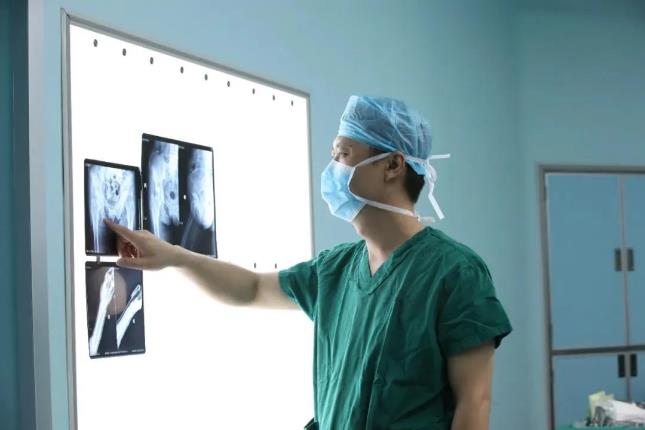 The introduction of TiRobot will promote the orthopedics in Huizhou and provide high quality surgeries with better results. Assisted by TiRobot, patients are able to have minimally invasive surgery of more safety, shorter recovery period and less bleeding. The orthopedic center of The third People's Hospital of Huizhou will transform from artificial surgical planning to robot-assisted precise planning in this way to step into a new stage of development.
TiRobot can help surgeons precisely position surgical instruments and implants in surgery on spine and trauma with its robotic arm.
The system is compatible to 2D and 3D modes. With the aid of an orthopedic guide and the unique intelligent algorithm for calculating screw trajectory, the robotic arm can precisely move to the planned position and provide surgeons with accurate and stable trajectory. Surgeons can precisely design and place the internal implant according to surgical plan.
TiRobot finds a new way to make regular surgeries intelligent and apply minimal and precise invasion into complex surgeries, which shows prominent advantages in clinical applications. A bright future of intelligent orthopedics is coming.