TiRobot® was introduced in First Hospital of Nanchang and helped successfully complete a closed red

2021 - 01 - 06 09 : 44
Recently, TiRobot® was introduced in First Hospital of Nanchang and helped successfully complete a closed reduction and fixation for pelvic fracture. As the first 5G-based orthopedic robot-assisted surgery, TiRobot with X-ray and 3D positioning provided with the most ideal and safest trajectory as shown on the textbook and gave a perfect debut of minimally invasive screw fixation for pelvic fracture and minimally invasive percutaneous screw fixation for lumbar fracture, which marked the development of orthopedics of Jiangxi Province. It was also an important milestone for First Hospital of Nanchang to step into new digital intelligent orthopedics.
The incision of pelvic fracture surgery is large in traditional surgery.
The patient was a 22-year-old female with pelvic fracture caused by car accident. Pelvic fracture is complex and a relatively large incision is required in traditional surgery. In addition, there are numbers of complex blood vessels and nerves in the pelvis, so it is very difficult and dangerous to carry out surgery there. Many surgeons regard it as a no-go area.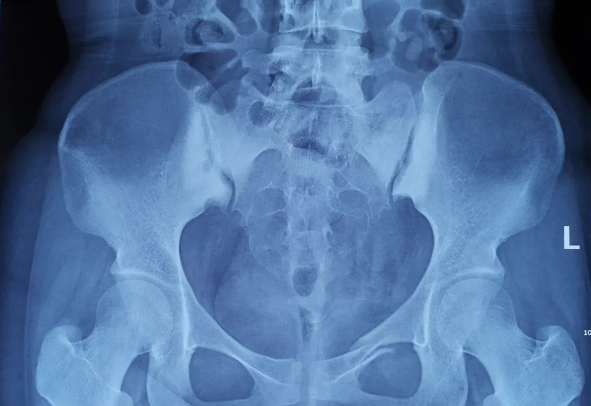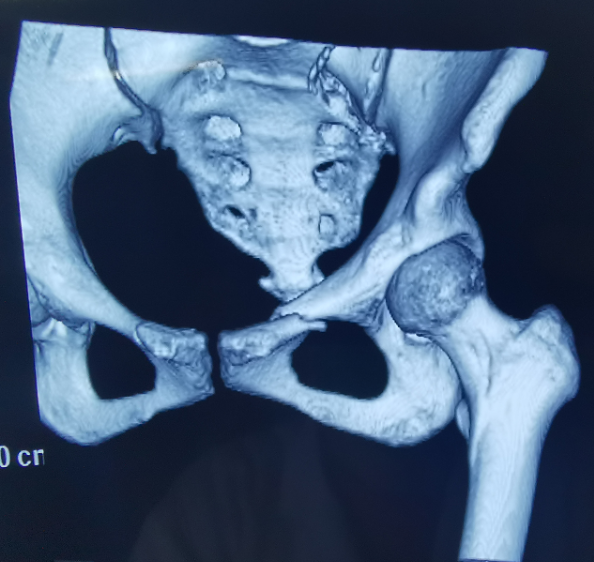 In traditional orthopedic surgery, X-ray is repeatedly used and sometimes the trajectory must be adjusted or changed. Even for experienced surgeons, there are inevitable accidents, since human eye recognition and X-ray in single plane is limited.
Our self-designed TiRobot® is an advanced technology for complex surgeries recognized worldwide. It can be used to deal with spinal diseases (including cervical spine, thoracic, lumbar and sacram), bone tumors, joint navigation and fracture surgeries on pelvis and limbs. Compared with traditional surgery, robot-assisted surgery has the advantages of less trauma, less bleeding, fewer complications and faster recovery. At the same time, since it is unnecessary to adjust the screw through repeated X-ray, the exposure to radiation can also be reduced. In addition, it is safer to have the surgeon and TiRobot cooperate in surgery.
TiRobot is tailored for patients because it is precise, minimally invasive and safe.
Assisted by TiRobot, the medical team led by Professor Liao Qi from Nanchang First Hospital completed the minimally invasive surgery perfectly and safely through the tailored trajectory and significantly shortened the operation length. TiRobot has made it possible for doctors to carry out targeted surgery. To the patient`s reassurance, the robotic arm of TiRobot is very stable and can position precisely without repeated exploration.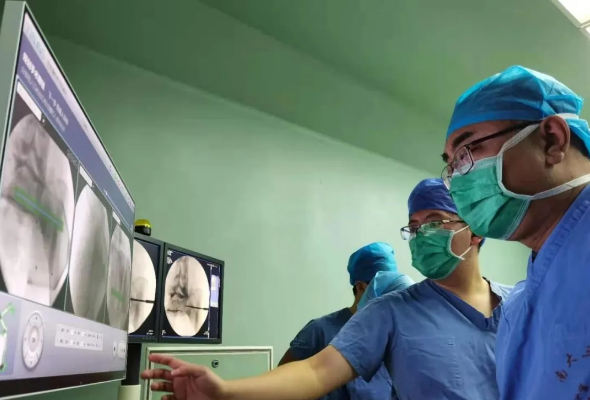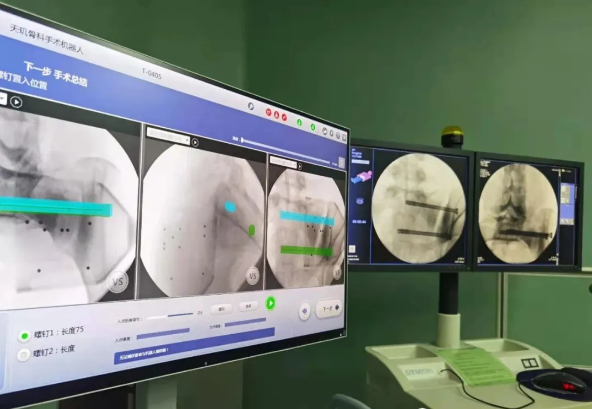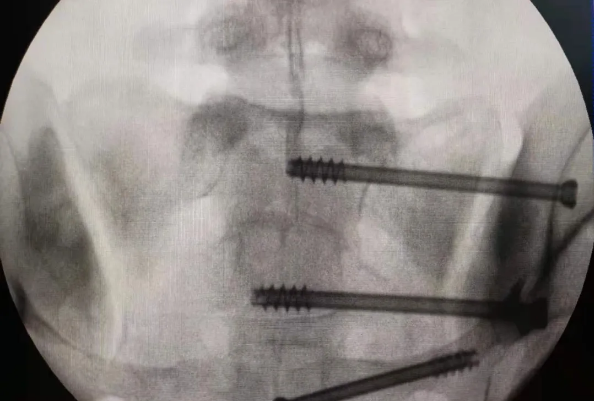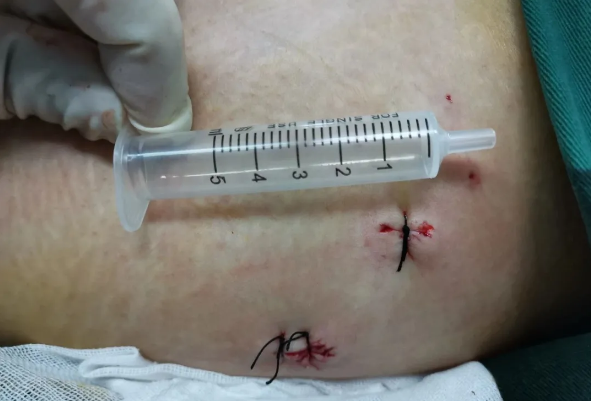 Since TiRobot is precise and efficient and is able to shorten the operation length significantly, the medical team then carried out another lumbar fracture surgery with TiRobot for a 20-year-old female under the guidance of Professor Liao Qi. The customized minimally invasive surgery worked as shown in a textbook which not only shortened the time but also ended with less bleeding and intraoperative X-ray.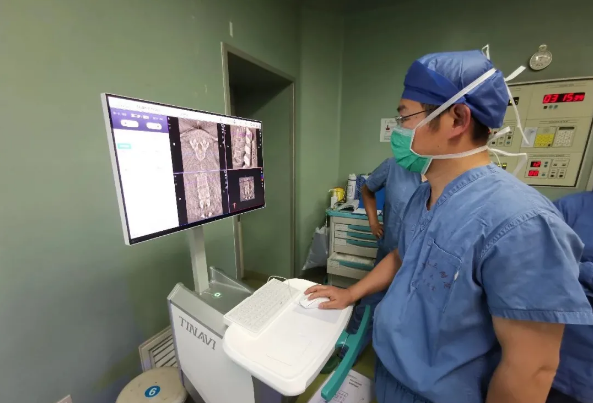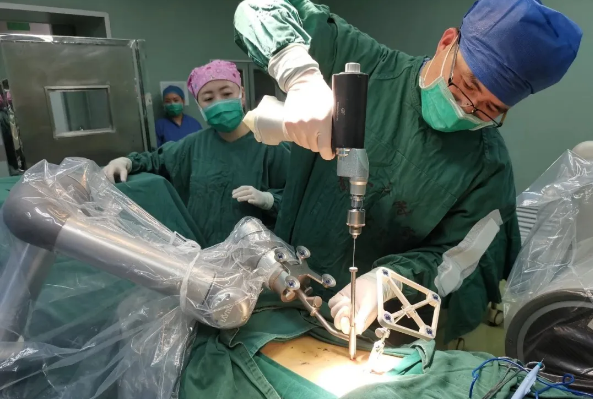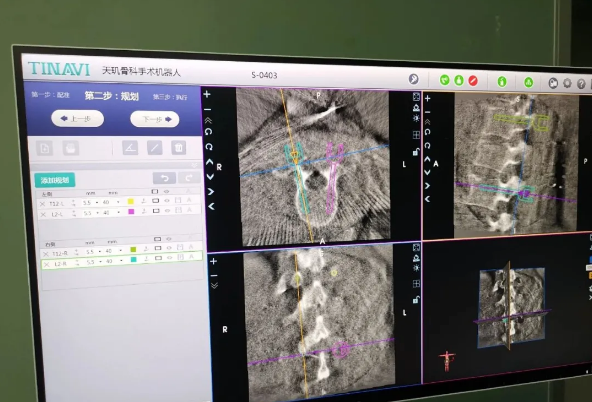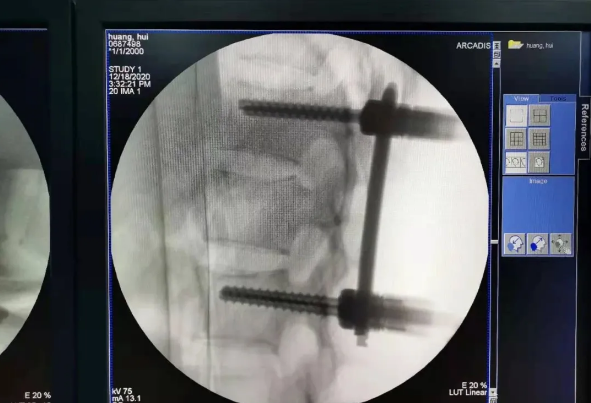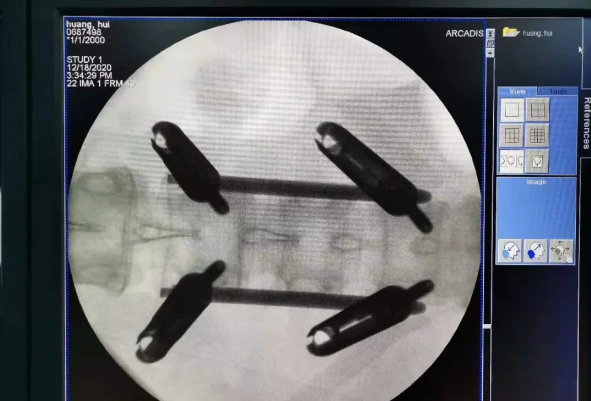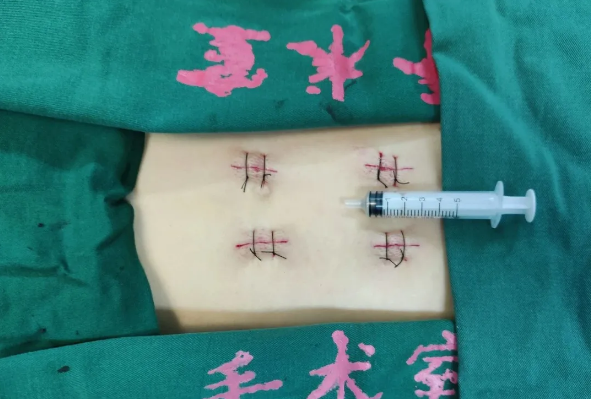 Introduction of TiRobot®
TiRobot® is composed of robotic arm, optical tracking system and main control surgical cart. The superior parts of TiRobot are the perspective eyes and stable hands, which has solved three major problems in orthopedic surgery at one stroke: unclear vision, difficulty in precision and instability.
The optical tracking system is the perspective eyes of TiRobot. It not only focuses on muscles and bones in depth but also monitors the operation in real time
The robotic arm is the stable hands of TiRobot. It is flexible and stable and can reach sub-millimeter level.
The main control system is the brain of TiRobot which conveys the doctor's mind to the other two devices above for planning. During the operation, it can track the slight movement of patients and adjust accordingly with the robotic arm to make sure the practical trajectory is consistent with the planned one.
As TiRobot coming down the pike, it will promote orthopedics into a new era of precision. Minimally invasive surgery will be generally applied and strict standards will be applied to complex surgeries. Besides, the important operations will be intelligent and the medical resources will be balanced. There will be significant advantages in clinical application and the intelligent orthopedics will bring benefits to more patients.