Good News | TINAVI Obtained the First CSA Certificate in China

2021 - 12 - 15 18 : 08
"Robotics-guided Orthopedic Surgical System" (TiRobot II) of TINAVI has obtained the first CSA Certificate from North America, which made it the first qualified orthopedic surgical robot in China.

On December 14th, 2021, Canadian Standards Association (CSA) officially issued a certificate to TINAVI on the ceremony held in Beijing. The leaders from both sides attended the ceremony to witness this memorable event.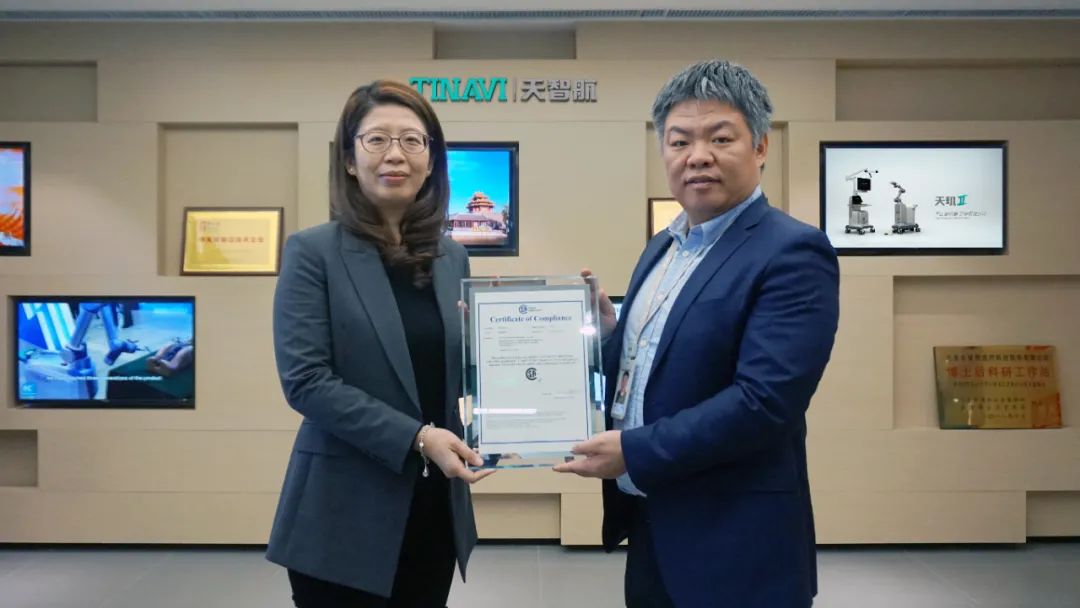 ▲ TINAVI was issued a certificate by CSA Group
Left: Ms. Ge Yanqing, Vice President of CSA Groupp
Right: Dr. Xu Jin, CEO of TINAVI
Robotics-guided Orthopedic Surgical System applies to trauma surgery on cervical spine, thoracic, lumbar, sacrum, pelvis, acetabulum and limbs. It was certified according to the latest industrial standard s, including product safety regulations, EMC, medical software, availability and specialized standard of robot performance (IEC80601-2-77). Robotics-guided Orthopedic Surgical System fully met the requirements for market entry in North America in terms of technology.
On the ceremony, the Robotics-guided Orthopedic Surgical System was rewarded CSA Certificate by CSA Group, i.e., the general certificate in North America. It is a requisite for entry into European and American markets and lays a solid foundation for the commercial expansion of TINAVI in the international market.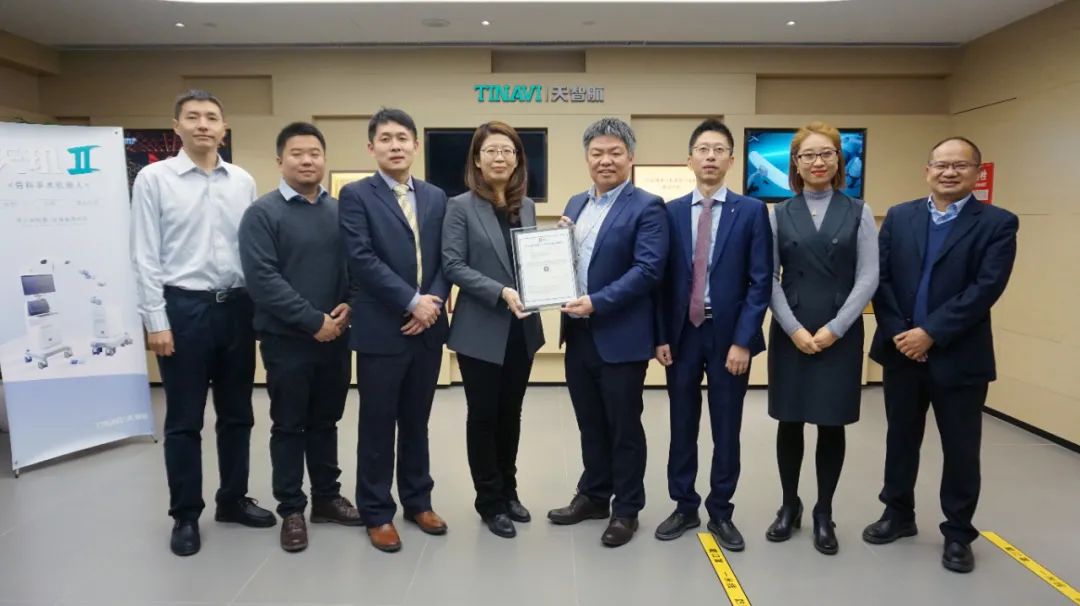 ▲Group Photo: Leaders of CSA Group and TINAVI
After the ceremony, Ms. Ge said:
The surgical robot is featured with complexity as an aggregation of many modern high-tech. Compared with other medical robots, the surgical robot is more technical and precise with higher added value. In China, surgical robots have been applied into orthopedics, neurosurgery, cardiac surgery, gynecology and other operations. As a professional organization with history of more than 100 years, CSA Group has always been committed to addressing issues related to welfare and safety with the rise of new technologies in order to help its customers be more advantageous in the complex market. At present, CSA Group has successfully established a medical robot laboratory in Shanghai and continuously expanded scale and improved capacity. It is expected that the lab would provide solutions to safety regulations, EMC, software and cybersecurity in one-step for medical robots enterprises in the near future.
Dr. Xu from TINAVI said:
Since its establishment 16 years ago, TINAVI has launched generations of orthopedic surgical robots and gone through a process from original thoughts to prototypes and finally managed a product which could be massively produced and put into market. It is well known that the standard and requirement in North America is the strictest all over the world. Therefore, the certificate from CSA Group is a recognition of our techniques and quality and helps us enter the international market. Moreover, we had a great admiration for CSA Group because of their professional and efficient way of working and serious scientific spirit during certification. I would congratulate beforehand on the success of CSA China Medical Robotics Laboratory.
---
About CSA Group
CSA Group is a global organization dedicated to safety, social welfare and sustainability. We lead the Standards Development, Testing, Inspection and Certification around the world including Canada, the U.S., Europe and Asia. Our mission is to hold the future with a higher standard.
TINAVI has been focusing on orthopedics for more than ten years, and committed to providing more possibilities for the development of precision and intelligent orthopedics by integrating innovation into every process from design, research R&D to manufacturing with the spirit of persevering original research. As a pioneer of medical robots in China, TINAVI has obtained more than 100 patents, 20 more national and provincial major projects. It is a supporting unit of National-Local Joint Engineering Research Center for Medical Robots with a postdoctoral workstation. It is a member of National Robot Standardization Group, the vice chairman unit of the Medical Robot Branch of the Chinese Society of Biomedical Engineering and Beijing Intelligent Robot Industry Alliance and was also elected as the president of Zhongguancun Medical Devices Technical Innovation Alliance. More than ten years of continuous efforts help TINAVI list on the Science and Technology Innovation Board of the Shanghai Stock Exchange in July 2020 and became the first listed medical robot enterprise in China.